Oxylator automatically maintains adequate ventilation for each patient through a patented pressure and flow sensing system that allows for passive exhalation. Unique technology guides the care giver to provide proper airway management.
Oxylators® are patient-responsive, oxygen-powered resuscitation/inhalation devices intended to provide emergency ventilatory support for patients weighing more than 10 kg (22 lbs). Utilizing patented technology, Oxylators® are simple, safe and effective and give the care giver utmost flexibility in airway management during emergencies and attended short-term ventilation.
The Food and Drug Administration (FDA) classifies Oxylators® in Class II (two) under the Product Code 73 BTL. The devices meet the performance standards as set out in ASTM F920-85 and ISO 8382. The Oxylator® is a Class I (one) device a referenced in JAMA 'Guidelines for Cardiopulmonary Resuscitation and Emergency Cardiac Care', American Heart Association (AHA).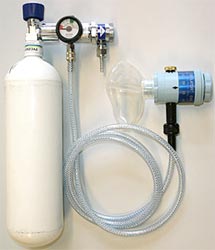 Oxylators® are patient responsive resuscitators that incorporate two distinct functional elements during a ventilatory cycle.
The first, during the inspiratory phase of a ventilatory cycle, is a selectable pressure limit which initiates the second, a passive expiratory phase which is flow controlled.
The Oxylator® will not start a new inspiratory cycle until exhalation is complete. That point is reached between 2-4 cmH2O of PEEP in automatic or continuous mode, and at base line in manual mode. This eliminates 'stacked' breaths and their associated complications. The end of the expiratory phase then triggers the next inspiratory cycle, hence the new inspiratory phase is flow triggered.
The design of the Oxylator® provides various unique features some of which can otherwise be found only on higher priced ventilators. In the hands of a trained caregiver administering cpr, Oxylators® are resuscitation management systems.
The Oxylator® was designed to provide utmost flexibility, safety and effectiveness by combining all the features of a resuscitator and a first response ventilator in a small, handheld unit.

²allows the caregiver to use both hands to maintain a better mask seal and reduces fatigue when used in its 'automatic mode'.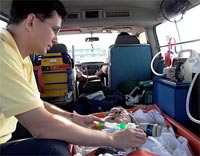 ²when the device is used simultaneously during chest compressions, it automatically synchronizes the cycling rhythm to the compressions administered, providing safe and effective two person cpr.
²minimal PEEP is maintained (< 4 cmH2O) when used in automatic mode.
²allows the caregiver to switch to manually activated ventilatory cycles if confronted with patients that demonstrate abnormal lung compliance.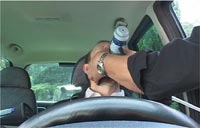 ²provides inhalation function when resuscitation is no longer required. This can be overridden automatically if resuscitation needs to be re-initiated.
²simple construction allows the user to disassemble the top and bottom components instantly - without tools - to ensure proper cleaning and disinfection of the system.
² the trained caregiver can monitor and detect deterioration or improvement of a patient's lung condition from cycling rate changes.
²a disposable viral-bacterial filter can be inserted into the patient connection of the device, if desired.
²the Oxylator® eliminates the potential of 'stacked' breaths, or gradual increase in PEEP levels which may occur with time/volume cycled systems. Its expiratory phase allows for passive, unassisted exhalation.
²Minute Volume will always be maintained when used in automatic mode, regardless of pressure settings or lung compliance.
²during the ventilatory cycle, the system always maintains a positive pressure in the airway, unless a negative pressure is initiated by the patient's own effort at which point it allows the patient to satisfy his or her own 'demand'.
²due to its patented technology, the Oxylator® will automatically cycle with a patient's own rhythm and wastes no time in 'detecting' failure of a patient's own inspiratory effort.
² no oxygen is wasted to power the device.
²malfunction is reduced to a minimum since the Oxylator® utilizes ONLY ONE moving component which 'floats' as it cycles.